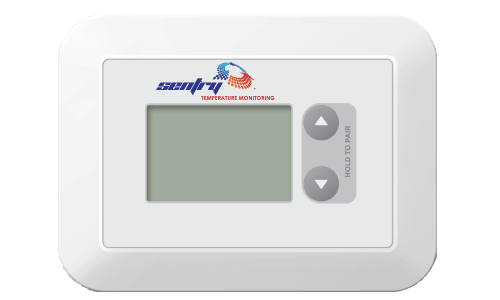 A HACPP Certified 24 / 7 temperature monitoring solution that will send an SMS and email alert if temperatures read outside of the set range.
Refrigerator Temperature Monitoring System
Our food temperature monitoring system with alarming and compliance reporting is used in a multitude of food storage applications. This includes cold stores, fridges, cool rooms, freezers, food display cabinets and other refrigerator temperature monitoring systems. Places where temperatures can be monitored 24 hours a day from any internet capable device (mobile phone, tablet and computer). Our range of wireless freezer monitoring systems include a probe sensor for bain marie applications and measuring temperature of foods through insertion into food products. Industries that benefit from this system are primary producers, food processors, cold storage warehouses, supermarkets, food wholesalers and retailers, restaurants, cafes, hotels, caterers, and food transportation.
Our temperature monitoring system is also used in other applications such as vaccine storage in the healthcare, hospital and pharmaceutical industries. We're even used for computer server rooms and other temperature critical applications.
Money Saving
With equipment cost of less than $2000 for a typical restaurant or butcher application, the Sentry wifi fridge monitoring system represents great value for money. Particularly when one considers the costs associated with stock losses as a result of fridge and freezer failures.
Fridge and freezer failures due to mechanical breakdown or power failure are commonplace. Often these result in significant stock losses and business disruption. The costs associated with such failures can be quite significant, as many a business has experienced.
Cold Room Temperature Monitoring System
Our cold room temperature monitoring system provides alerts via SMS and Email in the event of fridge and freezer failure. This enables timely corrective actions to be taken to preserve stock and save on considerable stock replacement costs.
Wireless Sentry Temperature Monitoring System
Our wireless Sentry temperature monitoring system automatically provides accurate daily temperature compliance reports consistent with Foodsafe requirements. This process continues even when business hours are closed or unmanned. Hence resulting in a far lower cost than current compliance practices.
Easy Installation
Installation of the fridge & freezer Sentry temperature monitoring system is quick and easy. In fact, it can easily be self-installed. The temperature sensors are simply paired to the Collector unit and put into the fridge, freezer, cool room or other cold storage device that you wish to monitor.
While temperature monitoring systems are factory-calibrated and ready for installation, Foodsafe requirements demand that the temperature sensors are periodically calibrated. This task is easily performed with calibration results logged and reported on the Sentry system.
How the Sentry Temperature Monitoring System Works
Our refrigeration monitoring system utilizes wireless digital temperature sensors that are accurate to
0.5°C. A powerful inbuilt transmitter provides extended range allowing the devices to be used on large and heavily built sites where signal strength can be sometimes weakened. With an IP67 rating (IEC Standard 60529), the temperature sensors are impervious to ingress of dust and water and are suitable for areas subject to regular hosing down for cleaning purposes. Wired versions of the temperature sensing devices are also available to the same IEC specifications.
The digital & wireless temperature monitoring systems send data wirelessly to a collector unit. This unit stores the information and forwards it via 3G-telephony to an AFSTC cloud-based server. Here it is constantly monitored and alerts/reports are generated. The collector unit is also rated to IP67 and has an easy-to-read display for instantaneous data readings of all linked temperature sensing devices.
Features & Benefits
The benefits of the cold storage Sentry temperature monitoring system are compelling. Not only does it alert you of fridge and freezer failure, it also prevents costly stock losses and associated business disruption. It provides daily compliance reports of the temperatures of your food storage devices and lowers your Foodsafe compliance costs, giving you peace of mind.
The Sentry Temperature Monitoring System provides 24/7 real-time monitoring of temperatures and alerts users if temperatures are outside of set points. This allows timely corrective action to be taken to preserve valuable stock.
Compliance reports providing accurate data consistent with Foodsafe requirements are automatically generated and sent via email on a daily basis. This is done even on days when the business is closed.
The wireless Sentry Temperature Monitoring System runs on the 3G network and is therefore not Wi-Fi reliant.
In the event of a power failure, the backup battery will allow the refrigeration monitoring system to work and will send an alert to notify of the event.
Different access levels can be set for Administrator and User roles.
Temperature parameters are customised to your needs.
Ease and associated low cost of installation – does not require specialist trades (can be self-installed). You simply require a standard 240V outlet for the collector unit.
Sensors are easy to calibrate and calibrations are logged automatically on the system.
Single Collector unit can handle up to 64 temperature sensors.
System has inbuilt self-diagnostics and sends alerts for weak battery, weak signal strength, power and 3G outages.
Dual cloud-based servers provide 100% back-up in the event of a server outage.
The system allows a full audit trail from temperature sensor through to receival of alert notification and compliance reports.
The Sentry temperature monitoring system is HACCP Certified.
The system has a five year warranty (excluding batteries).
"View temperature monitoring in real time on any internet capable device"
Do you need more information?
Feel free to drop us a line anytime.